GfK Insight Summit 2019
27. Mär 2019 • News • GfK Austria GmbH • Seminar • Marketing & Medien • Markt & Meinungsforschung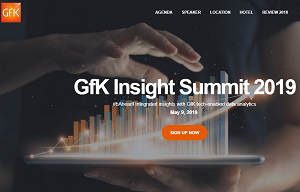 #bAhead! Der GfK Insight Summit 2019 bietet integrierte Insights auf Basis der GfK-Technologie zur Datenanalyse.
---
As digitization is disrupting every industry, entire business models and consumer lifestyles, knowledge is more important than ever!
But the nature of knowledge has changed. Today, knowledge needs to be broad and cohesive, forward looking and prescriptive. Above all: it has to adapt fast so you can continuously be ahead of an everchanging environment.
Based on automated end-to-end platforms and advanced analytics, we at GfK provide you with smarter, richer and more relevant data and insights focused on your key business questions.
Learn more at GfK Insight Summit 2019 on May 9 in Munich
Together with representatives from industry and retail, e.g. HUAWEI, Vodafone, Philip Morris & BSH we will present you exciting client cases and current data analytics solutions..
We will talk in detail about:
Winning with smart data integration
How to use data analytics to make better business decisions
Bringing retailer-industry partnerships to the next level
Data-driven consumer centricity
Turning data into knowledge for better trade marketing
From vision to reality: GfK's new analytics suite
Furthermore, Jochen Schweizer will hold this year's keynote. He will take us on a whirlwind journey through his exciting life, talking from his own experiences as adventurer, entrepreneur and investor.